NHS 111 24hr Mental Health Crisis Support
Mental health crisis support for all ages is now available 24hrs every day across Bedfordshire and Luton by calling NHS 111.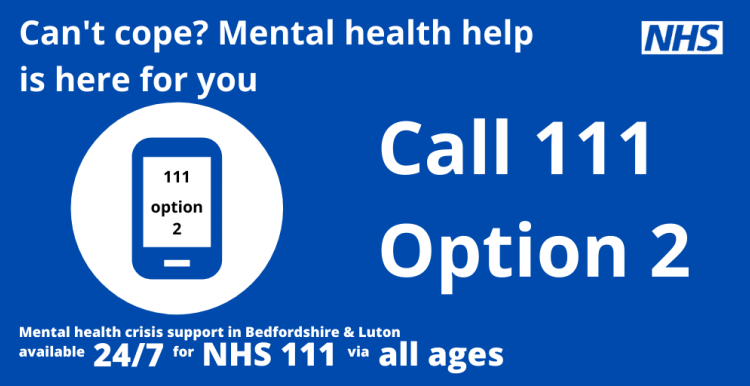 NHS 111 will act as a first point of contact for any adults, children or young people in urgent need of mental health help.
Callers will receive fast and responsive support from Trust mental health professionals by selecting Option 2.
Our call handlers will complete an immediate telephone triage and then signpost people to help and support or arrange a same-day mental health assessment by mental health services for children and young people or adults.
The call handlers are based at Florence Ball House in Bedford Health Village, Kimbolton Road, Bedford.
The Trust's NHS 111 mental health crisis help will be supported by our urgent mental health assessment centres at Florence Ball House and Calnwood Court on the site of Luton & Dunstable Hospital, which provide 24hr walk-in mental health crisis support for all ages.
This is a huge step forward in providing more accessible and responsive mental health crisis care for anyone who needs it.
NHS 111 is known and trusted by the public and will now act as a first point of contact for people experiencing serious mental health challenges who don't think they can cope.
It will also further connect all our NHS mental health services across the county.
We would like to ask for your support in helping spread the word of the extended NHS 111 help available.
The extended NHS 111 service went live at 8am today (Monday, June 15).